Time Inputs for Redundancy Calculations (with Repair)
If regularly scheduled maintenance is performed, the mean corrective maintenance time is one half of the maintenance interval. For example, if maintenance is only performed every T=30 days, the average time that a failed unit will have to wait for repair is 15 days. Sometimes a unit may fail just after the repair technician leaves the site (red x) and will have to wait almost a full 30 days for repair, while other times a unit may fail just before the technician arrives for a regular visit (green x). On average, over many trials, a failed unit will wait one half of the scheduled maintenance interval, or 15 days.





This tool takes Mct as input, while this tool takes "T" as input; which assumes that the system is inspected every T hours and restored to "as good as new" for the next interval.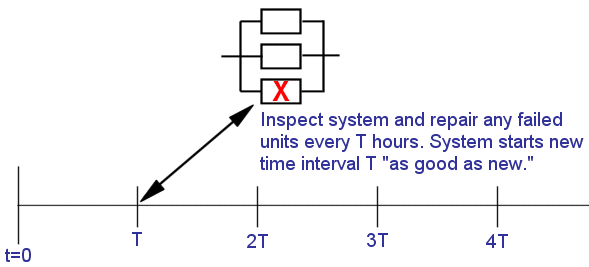 Copyright © 2010 - 2022 Reliability Analytics Corporation

All content and materials on this site are provided "as is" Reliability Analytics makes no warranty, express or implied, including the warranties of merchantability and fitness for a particular purpose; nor assumes any legal liability or responsibility for the accuracy, completeness, or usefulness of any information, apparatus, product, or process disclosed; nor represents that its use would not infringe privately owned rights.