MTBF Test Time Calculator
Background:
This tool calculates the test time required to demonstrate a mean time between failure (MTBF) value at a given confidence level. It assumes an exponential failure distribution (i.e., constant unit failure rate) and uses the chi-square distribution, as described in the "Confidence Limits - Exponential Distribution" tool, taking as input the number of allowable failures and required MTBF and solving Equation 2 for T, the required test time. Because the failure rate is constant (i.e., only "chance" failures occur, no wearout), testing one unit for 100 hours is equivalent to testing 10 units for 10 hours each.
Concept: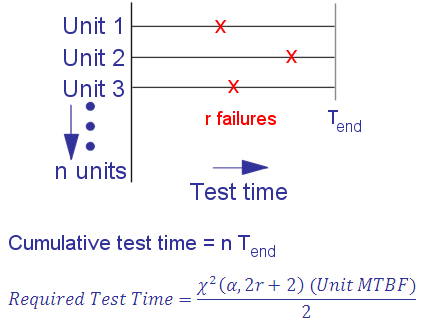 Calculation Inputs:
Toolkit Home

Comments/Questions:



reliabilityanalytics.com

---
References:
MIL-HDBK-338, Electronic Reliability Design Handbook.
Bazovsky, Igor, Reliability Theory and Practice.
Copyright © 2010 - 2014 Reliability Analytics Corporation

All content and materials on this site are provided "as is" Reliability Analytics makes no warranty, express or implied, including the warranties of merchantability and fitness for a particular purpose; nor assumes any legal liability or responsibility for the accuracy, completeness, or usefulness of any information, apparatus, product, or process disclosed; nor represents that its use would not infringe privately owned rights.