Field MTBF Calculator
Background:
This tool computes the lower one-sided MTBF at a given confidence limit based on the number of unit-hours accumulated and the total number of field failures. The calculation assumes that units have a constant failure rate and fail in accordance with the exponential distribution. For purposes of this calculation it is assumed that the "field test" is time truncated, thus making use of equation 2 shown for this tool. One common use of the tool is to estimate the current MTBF for a population of field units when no failures have occurred, which is typically calculated at a 60% confidence level for r=0.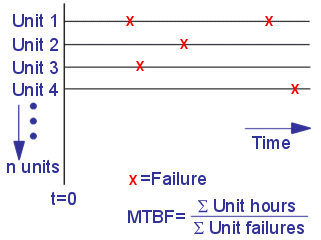 Calculation Inputs:
Toolkit Home

Comments/Questions:



reliabilityanalytics.com

---
References:
MIL-HDBK-338, Electronic Reliability Design Handbook.
United States Air Force Rome Laboratory Reliability Engineer's Toolkit (1993).
Copyright © 2010 - 2014 Reliability Analytics Corporation

All content and materials on this site are provided "as is" Reliability Analytics makes no warranty, express or implied, including the warranties of merchantability and fitness for a particular purpose; nor assumes any legal liability or responsibility for the accuracy, completeness, or usefulness of any information, apparatus, product, or process disclosed; nor represents that its use would not infringe privately owned rights.